Support for Arokey`s twins
A report by Heiko Bahe (Fuchstal near Munich)

My wife Eva and I were this year from mid-May almost three weeks in Gambia in Brufut on vacation. It was our first stay in Africa and was supposed to be a pure beach / relaxing holiday in a nice hotel. But then, thank God, it turned out quite differently. Already on the second day we met Arokey Gibba. She danced with a small group in the hotel local dances and we started talking and immediately found her very personable.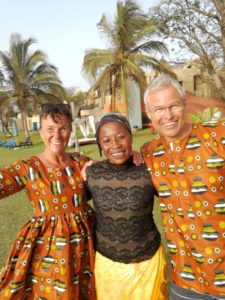 Eva, Arokey and me
Arokey invited us to her "house" and cooked for us. We were quite shaken by the poor conditions in the "true Gambia".Arokey also lives in poor conditions. She is illiterate, can not write or read, but has learned by listening some English vocabulary and sentences, so that "smaller" conversations in English are possible.
Arokey`s  home in Brufut
The toilet
Arokey lives separated from her husband and has two small daughters (twins: Arokey jr. and Mariama) who turned 4 in August. She keeps herself and her children`s head above water by cleaning, washing clothes and dance shows. Of course there is nothing left for a decent education of the twins.
Arokey with her twins Mariama and Arokey jun.
Mariama and Arokey jun.
It quickly became clear to my wife and me: we must and want to help here! To make matters worse for Arokey her children live with her mother in Gunjur, but she lives mostly in Brufut with her grandmother because of the tourism and her cleaning work during the week – so she sees her children only on weekends.We were particularly touched by the mentality of Arokey, which is probably true for most Gambians: despite all adverse living conditions you can see them mostly laughing, positive and seemingly happy.Arokey showed us the fish market in Tanji and we bought a huge butterfish (a priceless luxury for Arokey) that she and her family members living with her grandmother in Brufut, cooked for us – it tasted delicious.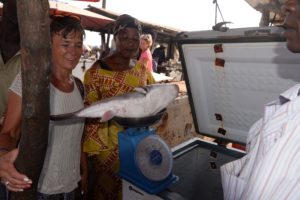 Eva and Arokey at Tanji fishmarket
Eva and Arokey in the "kitchen"
Of course we wanted to get to know their twins living in Gunjur – so we took a bus taxi together with Arokey (that was an adventure on our own) and drove to Gunjur.There we finally got to know Arokey jun. and Mariama personally and gave them pencils, lollipops and a few treats that we had "kidnapped" from our hotel. The twins were immediately sympathetic to us and strengthened our desire to support the education of the two as part of a sponsorship, or even to make it possible in the first place. In Brusubi (a place about 4km from Brufut away) there is a very good private school – the Gateway Learning Academy – which offers children from day care to Nursury up to and including Primary School a very good education. The school was founded in 2017 by a Gambian couple.
In front of the Gateway Learning Academy (GLA) in Brusubi
The emblem of the Gateway Learning Academy
Arokey had heard of this school through a friend, and she wanted nothing more than to enroll her twins here in August 19, to give them a better future.We wanted to look at the school and make first contacts with the headteacher, but it was just holidays. So only a "sightseeing" from the outside was possible, but gave us a good impression. On the walls, the school had written its vision and mission – and we really liked it and encouraged us to support Arokey's request.
Mission and Vision of the GLA
The Gambia-born founder couple of the school lives and works in London, but is of course several times a year on site. Since our return to Germany, I am in regular contact with the owner and director of the school, Halima. She helped us a lot to enable the twins to enter the Nursury I class at the beginning of September. Arokey's 24-year-old brother Saikou gave us a special support. Saikou speaks "reasonably" English and – most importantly – can also write. All communication with Arokey is via Saikou via WhatsApp. Saikou has admirably taken care of the entire registration process at school, and filled out the forms and communicated with the school manager on site.In fact, it was possible to enroll the twins in the GLA at the beginning of September this year.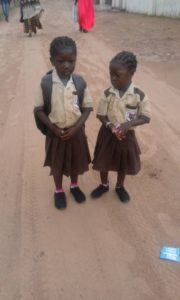 Arokey jun. and Mariama on their first day of school
Since the children lived in Gunjur with their grandmother, they now had to pull to Brufut to Arokey`s grandmother, which is not easy for everyone involved, because the "house" of the grandmother was already quite crowded. In addition to Arokey live here also other members of the extended family. Also a solution had to be found for the daily transportation of the children to the GLA in Brusubi.In addition to the school fees (about 23,000 Dalasi / about 400 € per year per child) for the Nursury Grades, we therefore also cover the costs of a bus-taxi to bring the twins to and from the GLA. There are also costs for matching shoes, a satchel and a second uniform – it adds up – but at least you know that it arrives at the right and really helps. A great feeling!
A few weeks ago Saikou asked us if we could help him with the purchase of a bike, because he wanted to educate himself at the GTHI (Gambia Tourism and Hospitality Institute – a hotel school in Kanifing / Serrekunda) and go there by bicycle. Of course, we wanted to support him in his meaningful project and now he calls a used, but for Gambian conditions very good bike his own.
Saikou with his "new" bike
Back in Germany, my wife and I searched on the internet who could help us with the further organization of such a sponsorship and possibly also has other possibilities to help. There were many questions – like how to "transfer" money to the Gambia the cheapest way.
So my wife and I came across the non-profit association "Gambia Hilfe Freiburg e.V.", which helps through wonderful projects and by organizing sponsorships to give young people in the Gambia a future. Meanwhile, I am a member of this association and for the next container to Gambia my wife and I packed 3 suitcases full of clothes, shoes, drugstore etc., which Arokey`s family can use very well. We also send a used laptop for Saikou, which he needs for his visit to the hotel management school.
Our goal is to enable Arokey and her twins to have a small apartment right in the center of Brusubi near the school so they can move out of their grandmother's crowded "house" and bring their children to school more easily each day, especially in the rainy season.
Those who would like to join us in supporting Arokey, their Twins and their brother are welcome.Incidentally, we consider the concept of the GLA to be very good, and the school management is also very committed and makes a serious impression on us. We would be delighted if there were any more sponsors who allow children to visit the GLA.